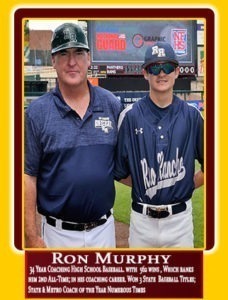 Ron Murphy
Born June 21, 1959 in Brooklyn , New York
High School : Newfield High School , Selden NY 1977
College : University of New Mexico Bachelor's in Physical Education 1983




High School
• 1977 & 1978 – 2-year letter man in Football – Fullback , WR , Defensive end and secondary
• Member of 1977 Newfield Football league Champions team
• 1976 Ran Track
• Member of Newfield Sports Letterman club
• Played Club deck Hockey and Ice Hockey
• Coached brothers Little League team
• Umpired youth games for Little League
College
• Attended off-season workouts with UNM Lobos and Coach Cappelli before being injured
• Was Vice President of Hokona Dorms 1978
• Was president of Hokona Dorms 1979
• Played UNM Club Lacrosse & Rugby
• Worked at Mountainside YMCA as program Manager for Youth Sports.
• Worked at Selden Batting cages in New York for summer job.
• Played semi-pro Albuquerque League with ABQ Astros
Professionally Ron is currently in his 34th season as a HS baseball coach in New Mexico His Overall Coaching record is 562 — 209 losses. He has coached over 1000 total high school games if you add his football , baseball and basketball assistant coaching. Coach Murphy in the winningest active Head Baseball Coach in the State of New Mexico. Coach Murphy is second in overall total wins in the State of New Mexico. He needs 21 more wins to be 1st in State of New Mexico in all time wins surpassing Bloomfield's legendary baseball coach, John Gutierrez, who has 582.
• Sandia High School
o Freshmen Football Coach 1985-1987 under Jim Ottman
o JV/Varsity Football Coach 1987-1989 under Jim Ottman
o C-Team Girls basketball coach 1986 under Doug Beard
o JV/Varsity Girls Basketball Coach 1987-1989 under Felicia Friberg
o JV Baseball Coach 1985-1989 ( Under Hank Paskawitz )
o Gym Master and Ticket taker for all sports 1985-1989
o Educational Assistant 1985-1986 under Steve Gallea
o Special Education Teacher ( Special Education BD ) 1986-1997 11 years
o Started the first ever B-Legion Baseball program and coached it at Sandia High School in Summers ( 85-89 )
• Highland High School
o 1989-1990
o JV Baseball Coach under Steve Rozelle
o Summer varsity B-legion Head Coach
• Pius High School – Varsity Baseball Coach 1990-1997 Record: 117 – 42
o 1991- District Champs
o 1994- District Champs
o 1996- District Champs & State Runner-up
o 1997- District Champs & State Runner-up
o 1996- My player Ted Howard named 2nd team Al-America
o Freshmen Football Coach 1990 —9-0 undefeated season !
o Varsity football Offensive coordinator 1991-1997 (3 District Titles)
o 1996 turned down the offer of head football job not wanting to be head coach of two sports.
• Rio Rancho High School 1997/98 –present Record: 445 – 167 losses
o 1997-present Head Varsity Baseball Coach
o 1997/ 99 Freshmen football Coach under Bill Moon
o 1999-2004 Assistant Varsity Football coach under Bill Moon and Wilson Holland
o 1997-2000 Behavior disorder teacher in Special Education
o 2000 -present Physical Education teacher
o 1998-2008 Gym Master for all Gymnasium events
o 1998-present Oversee the Fall Baseball program
o 1998-present Oversee and help coach Summer Baseball at RRHS
• Hiring committees for RRHS coaching positions (3 Times)
• Rules Committee for Athletic Handbook (2 Years)
• Baseball District Championships 2001, 2006, 2007, 2008, 2009, 2010, 2014, 2015, 2016
• Baseball Regional Playoffs 2001, 2002, 2003, 2007, 2008, 2009, 2010, 2011,2012,2013, 2014, 2015, 2016, 2017, 2018, 2019
• Baseball State Playoffs 1998, 1999, 2001, 2007, 2008, 2009, 2010, 2011, 2012,2013, 2014, 2015, 2016, 2017, 2018, 2019
• Baseball Final Four 1999, 2007, 2008, 2009, 2010, 2013, 2015, 2016, 2018 2019
• Baseball State Runner-up 2010, 2016
• Baseball State Champs 2007, 2009, 2013
• Mentors and Role Models
• Father- US Marine and Mother- Mother of 8 kids
• My Uncles Frankie, Raymond , Jay and Ronald
• Coach Anthony Perna – Newfield HS Coach in NY
• Coach Bob DeRosa – Newfield HS Coach in NY
• Coach Sebastian DeMartini– Newfield HS Coach in NY
• Coach Daniel Angelillo – Newfield HS Coach in NY
• Coach Mike Tullo – Club Coach NY
• Gary Ness – University of New Mexico Instructor
• Dr John Gustafson – University of New Mexico instructor
• Coach Jim Ottman – Sandia High School
• Coach Vivian – St. Pius X High School Athletic Director
• Gary Hveem – Rio Rancho High School Athletic director
Honors
• 2004 ABCA Region 7 Coach of the Year
• 2006-2007 State Farm Coach of Year award
• 2007 Recognized by U.S. Congress for Rio Rancho High School State Championship
• 2007 Mel Otero Contributor service award for officials
• 2007 Albuquerque Baseball Coaches Association (ABCA) Regional Coach of the Year
• 2008 & 2009 New Mexico High School Coaches Association Baseball Coach of Year
• 2008 National High School Athletic Coaches Association (NHSACA) Finalist for National Coach of Year
• 2009 ABCA Region 7 Coach of Year
• 2009 New Mexico State Senate recognition for State Championship
• 2012 BCA Regional Field of the Year
• 2013 NHSACA Finalist for National Coach of Year
• 2014 Inducted into Rio Rancho High School Sports Hall of Fame
• 2018 NHSACA Finalist for National Coach of Year
• 2019 Nominated for Newfield High School Football Hall of Fame ( NY )
• ABCA Awards for 100th win , 200th win, 300th win , 400th win, 500th win
• BCA Awards for 100th win , 200th win, 300th win , 400th win, 500th win
• NMHSCA AWARDS for 100th win , 200th win, 300th win , 400th win, 500th win
• NMHSCA Coach of Year Certificates for State Championship
• BCA award for 25 Years of Coaching HS Baseball
• ABCA award for 25 Years of Coaching HS Baseball
• Coached 7 North/South baseball All Star Games
• District Coach of Year 14 times between St Pius and RRHS
• 2019 USA Baseball certified
Community Service
• American Baseball Coaches Association (ABCA ) 28 Years
• National High School Baseball Coaches Association ( BCA ) 28 Years
• New Mexico HS Baseball Coaches Association ( NMHSBCA ) 19 Years
• New Mexico HS Coaches Association ( NMHSCA ) 29 years
• ABCA Committee member for field of year 10 years
• ABCA Committee member all-American selection 2 years
• BCA Committee member field of year 10 years
• BCA Committee member Coach of Year 10 years
• Vice President of New Mexico HS Baseball Coaches Association 2 years
• Attended ABCA National Coaches Convention last 28 years
• Attended the National Baseball Coaches Association Convention last 28 years
• Attend the NMHSCA Clinic annually ( Missed 2 years due to coaching out of town )
• Travel the country working V Tool baseball tournaments
• Have coached teams for the Albuquerque Baseball Academy
• Site Supervisor for Texas Premier Baseball Tournament
• Site supervisor for North/South All Star Baseball games at RRHS
• Site Supervisor for Rio Rancho Middle School tournament
• Camp Instructor at Las Vegas Baseball Academy ( 20 Years )
• NMAA Baseball Sports specific committee 2 years
• 1998 to Present – Run Coaches clinics for little leagues in Albuquerque and Rio Rancho
• 2000 Worked the Taos High School Baseball Camp
• 2005 – 2006 RRHS Teams worked on landscaping to Rio Rancho DQ as a thank you.
• 2008 Played Santa Claus at RRHS for a family in need fundraiser
• 2009- Present President of New Mexico HS Baseball Coaches Association
• 2009 to Present Donate time to work the Albuquerque Academy charity fundraiser camps
• 2009 to Present Started- our annual Toy drive at RRHS and now got it to involve all Sports
• 2010 to Present – RRHS Teams feeds 3 needy families every Thanksgiving through churches
• 2012 – 2014 Worked the Pius X High School Baseball Camps
• 2012 to Present – RRHS Team cleans senior citizens homes of weeds and outside yards annually
• 2013 to Present – Started Community service game between RRHS/Cleveland HS
• 2016 to Present Donate time to work the Farmington Strikezone camps for charity fundraiser
• 2017 – Organized a Statewide memorial service for an Eldorado baseball who passed away.
• 2017 – RRHS Baseball donation drive to battered women house in Rio Rancho
• 2018 – Organized a statewide raffle for a Piedra Vista Baseball player in need
• 2019 – RRHS Baseball involved with Goodwill drives
• 2019 – Helped run and site supervisor for the 1s Annual Alex Bregman Autism baseball tournament
Family
• Wife -Married since 1983 to Minerva Mondragon. She works at University of New Mexico
• Daughter – Valerie Murphy graduated from Rio Rancho High School helping to win two Volleyball state championships. She enjoyed being on homecoming court as well . She went to Marshalltown College in Iowa on a Volleyball scholarship. Currently she is a stay home mom of 3 . (Jaedyn, Jaxon and Brooklynn) Her husband Marcos works in the IT Department at various hospitals
• Daughter – Amber Murphy graduated from Rio Rancho High School. She was involved in helping to win two State Championships . Amber went to San Jac Junior College on a Volleyball Scholarship. While at San Jac she helped lead her team to two National Championship playoff appearances and was named Libero of her conference . Amber played at Hawaii Hilo for 1 year on a Volleyball scholarship and then transferred to Robert Morris College in Chicago her senior year. She helped lead her team to a conference championship and again got Libero of the year in her conference. She graduated from Robert Morris with a business Degree. Amber is currently an event Planner in Las Vegas Nevada.
• Son – Tyler is a Junior at Rio Rancho High School and currently just finished his JV season on the baseball team. When younger he was our bat boy and got 3 State Championship rings. Tyler currently has a 3.9 GPA and is a member of the National Honor Society .
• Grandchildren: Jaedyn 9 years old and already a good baseball player . Jaxon 3 years old loving T-Ball and especially the snacks ! Brooklynn just turned 1 and is probably the toughest of the three.